August 2015 | Volume 21, Number 2
JOHN SHULTIS, BOOK REVIEW EDITOR
---
I Am Coyote: Readings For the Wild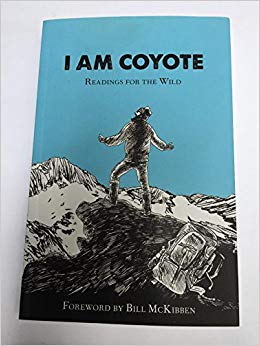 By Jay Schoenberger. 2014. Kimbrough Knight Publishing, San Francisco, CA. 275 pp. $18.95 (pb).
This anthology was compiled with more than 60 excerpts from famous writers and poets and their writings about wild places, nature, and wilderness. The collection is meant to be read in wild places as a sort of traveling companion to take along as inspiration from such famous writers and poets as Mark Twain, John Muir, Jack London, Edward Abbey, Henry David Thoreau, Annie Dillard, Wallace Stegner, Ralph Waldo Emerson, Charles Darwin, Robert Frost, Walt Whitman, and others.
The book begins with a brief foreword by Bill McKibben and an introduction by Jay Schoenberger who explains that the book originated from the many pages he copies of passages from a variety of books he enjoyed, but when they became hard to read through wear, he searched for a book that was "a compilation of the great wilderness-related essays, poems, and passages. I wanted a book I could throw in my pack and read in the backcountry or enjoy at home when I itch for a connection to the wilderness" (p. 4). Unable to locate such a book, he eventually decided to compile his own collection to share with other readers.
Schoenberger organized the writings he selected into five chapters:
To Any Place That Is Wild – focuses on the lure of adventures and journeys into wild places especially to get away from the confines and limitations of civilization.
The Tonic of Wildness – shares the excitement and joyful experiences of travelers in the wild settings of nature and time spent out on a trail.
Mountains a Thousand Miles High – relives the discomfort and challenge of traveling in difficult country, the fear of becoming lost, and the bittersweet end to a wilderness trip.
What Is the Use? – embraces the maturation from wilderness traveler and adventurer to becoming an advocate or spokesperson for conserving or preserving wild places.
Saving the Geography of Hope – rekindles the hope of conservation and preservation that has shaped the movement for parks and wilderness today and will do so into the future.
This inspired collection contains works that will reassure and remind longtime backcountry adventurers, advocates for wild places, admirers of nature, and armchair enthusiasts about the value of and benefits from the preserving wilderness and visiting those natural landscapes. This historic collection is also a cross section of current and historical writings and poems that will speak to those who have not yet experienced the backcountry and may be called through these writings and poems to embrace their own travels and learn of the solace and renewal in reconnecting with wild places.
REVIEWED BY CHAD DAWSON, IJW editor in chief and professor emeritus at the SUNY College of Environmental Science and Forestry, Syracuse, NY; email: cpdawson@esf.edu.
The Edge of Extinction: Travels with Enduring People in Vanishing Lands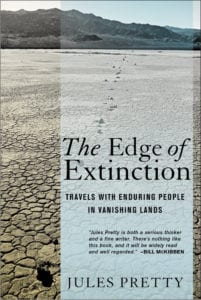 By Jules Pretty. 2014. Cornell University Press, Ithaca, NY. 240 pp. $27.95 (hc).
The Edge of Extinction is a narrative of Jules Pretty's travels across the world. Starting at the international dateline and moving west, he seeks out 12 beleaguered peoples and regions which have a clear connection and relationship. From Maori people in New Zealand/Aotearoa to Americans living in the California desert, Pretty documents the peoples and places that are rapidly vanishing as modernity encroaches.
Pretty blatantly defies the Western notion of wilderness as an isolated natural space without human presence or activity. Instead, he notes that the entire world has been cultivated noticeably by the people who occupy and rely on these landscapes. This occupation was and still can be done in harmony with the land, respecting natural cycles to prevent the catastrophic changes that seem to be happening around us. Wilderness as "shaped and used by people" (p. 14) can still seem natural and untouched: this is a common theme throughout the book.
Pretty does not propose a quick fix to our unsustainable way of life. He suggests our redemption could be a slow creeping change, starting from these wild places where indigenous cultures and local peoples are adapting on their own terms. These cultures take what is good and useful in the modern world as their own and reshape it to conform to their own culture, challenging the separation of nature and culture and demonstrating a potential way forward.
Pretty conceives the potential extinction of these seemingly remote places as a reflection of our own self-destruction via our consumer society. For it is from these natural places that industries harvest the resources to fuel our consumption. An ever-increasing demand for commodities is conceived as a vain effort to find satisfaction as the world withers around us: "Modern civilization has chased us here, consuming all" (p. 196).
Pretty believes that without the wild places of the world there will be nothing left to survive on, either physically or metaphysically. He has attempted to highlight the undeniable connection between humans and the landscapes they live on, identifying those who live in a way that challenges the dominant ideology of humans existing separately from nature, one of the key root causes for the degradation of natural areas today.
In the end, Pretty offers no shining beacon of hope for the future, only an image of what could be, what would need to be for the Western way of life to continue. It is not about ceasing consumption, but altering the practices of production so that they benefit the environment. He is adamant that humanity and nature have and can coexist. Each chapter provides example of this in a culturally distinct context so as to illuminate a way forward from our current environmental problems.
REVIEWED BY ELIZABETH WHITWICK, a student in the Ecosystem Science and Management Program at the University of Northern British Columbia; email: whitwick@unbc.ca.
VIEW MORE CONTENT FROM THIS ISSUE