December 2016 | Volume 22, Number 3
JOHN SHULTIS, BOOK REVIEW EDITOR
---
Wilderness Protection in Europe: The Role of International, European and National Law
Edited by Kees Bastmeijer. 2016. Cambridge University Press, UK. 641pp. $155.00.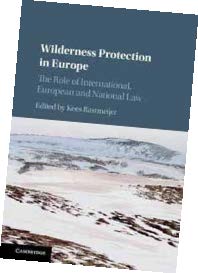 In Wilderness Protection in Europe, 30 contributors brought together the first comprehensive appraisal of the role of law in protecting wilderness areas across the vast reaches of Western, Central, and Eastern Europe, including European Russia. Five chapters in Part I examine the location, meaning, and value of wilderness in Europe. They map where wildlands may be found, and discuss the ecological, social, and economic values of wilderness according to various European cultures. Five chapters in Part II examine how wilderness areas in Europe are protected under international and regional treaties and European law, including the World Heritage Convention, the Bern Convention, the Alps Convention, the Carpathian Convention, and the European Union's (EU's) Natura 2000 system. Part III analyzes wilderness protection under the domestic legal systems of 12 countries: Austria, the Czech Republic, Estonia, Finland, Hungary, Iceland, Norway, Poland, Russia, Spain, Sweden, and the United Kingdom. In the conclusion chapter, the editor summarizes the main similarities and differences between wilderness protection under the various legal systems and proposes options to strengthen legal protection of wilderness in Europe.
Europe is a culturally diverse continent with a long and complex history. In many countries the term wilderness is not explicitly used. People from different countries and even within the same country may have different attitudes toward wild land. In their analyses, contributors include not only legislations that explicitly aim to protect wilderness areas but also those that can provide protection to one or more of three main qualities of wilderness: naturalness, undevelopedness, and relatively large size. Summarizing the analyses from the preceding 22 chapters, the editor concludes that wilderness protection is not an explicit objective of most international and regional conventions, EU directives, or domestic laws. In most cases, the term wilderness is completely absent. While existing legal frameworks provide many tools that can be used to protect wildlands (such as protected area legislation, spatial planning, environmental impact assessments), the overall conclusion is that the actual use of
legal instruments for wilderness protection in Europe is uncertain and heavily dependent on public awareness and political will. Most legal instruments are facultative and do not provide real legal guarantees that wilderness will be protected at a large scale. The editor recommends a three-pronged approach to strengthen the protection of Europe's remaining wildlands: (1) develop explicit policies for wilderness protection, (2) ensure effective use of existing legal tools to protect wilderness, and (3) adopt wilderness protection as a strategy to strengthen ecosystem services.
Wilderness Protection in Europe is an important contribution to the ongoing efforts to promote wilderness protection in Europe. It will stand alongside A Handbook on International Wilderness Law and Policy (Kormos 2008) as an invaluable reference for international and cross-cultural understandings of wilderness values, legislations, and policies.
REVIEWED BY TINA TIN, independent environmental consultant interested in Antarctic and wilderness issues; email: tinatintk@gmail.com.
Reference
Kormos, C. F. ed. 2008. A Handbook on International Wilderness Law and Policy. Golden, CO: Fulcrum Publishing.
---
Candid Creatures: How Camera Traps Reveal the Mysteries of Nature
By Roland Kays. 2016. The Johns Hopkins University Press. 272 pp. $39.95 (hardback).
The use of camera traps as a scientific tool to record the presence and activities of wildlife in nature has become an accepted practice. "Camera traps" are cameras triggered by the presence of wildlife through a variety of mechanisms such as active infrared beams that are broken by animals moving through them. The camera and triggering mechanism become the equivalent of an animal taking a "selfie" photo. One of the benefits of such motion-activated imagery is that it is largely noninvasive to the behavior of the animal under study, thus allowing observation of animal behavior and movements that may not have been previously seen or documented. In particular, imagery of rare or nocturnal animals in their natural habitats is now possible even in very remote wilderness areas.
The book Candid Creatures makes several types of contributions to the field of wildlife science and conservation. While wildlife researchers have taken millions of images in recent decades, Kays has compiled 613 images from 153 wildlife research individuals and groups to highlight the contribution of this research to conservation efforts worldwide. In a chapter entitled "Critters," he presents photos of 73 species of animals ranging from iconic, charismatic megafauna such as black rhinos, snow leopards, and wolves to lesser-known or nocturnal species such as bats and aardvarks.
The chapter on "Animal Neighborhood Watch" highlights the urban and natural habitats of animals and helps relate the importance of this type of research on wildlife to conservation efforts and programs. A variety of 12 ecosystems and geographic areas are presented from the canopies of rain forests to a Polish woodland. The combination of wildlife observation in urban habitats informs conservation issues that help animals and people coexist.
The behavior of wildlife with the physical environment and other species is discussed in 22 examples in the chapter "Caught in the Act." Locations and situations presented range from animals using water holes and mineral licks to nest predation and feeding on animal carcasses. Traditional wildlife research methods for counting animals to estimate population, measure diversity, or survey mammal, bird, or fish populations are augmented by information from camera traps.
Throughout the book, Kays uses text, graphs, and maps to summarize how published literature, when combined with information from camera traps, provides a clearer and more complete information base to better manage human and wildlife interactions. Kays draws from 240 published scientific studies to make the case for the value of using camera trap imagery to more fully understand conservation issues and the alternative ways in which animals and humans can coexist in urban or agricultural areas and remote landscapes. The strength of the book is in Kays's understanding of the published literature and his collaboration with camera trap researchers to make an important contribution to conservation efforts. Roland Kays is well qualified to share his observations on wildlife conservation as the director of the Biodiversity Laboratory at the North Carolina Museum of Natural History and a research associate professor at North Carolina State University.
REVIEWED BY CHAD DAWSON, IJW editor in chief; email: chad@wild.org.